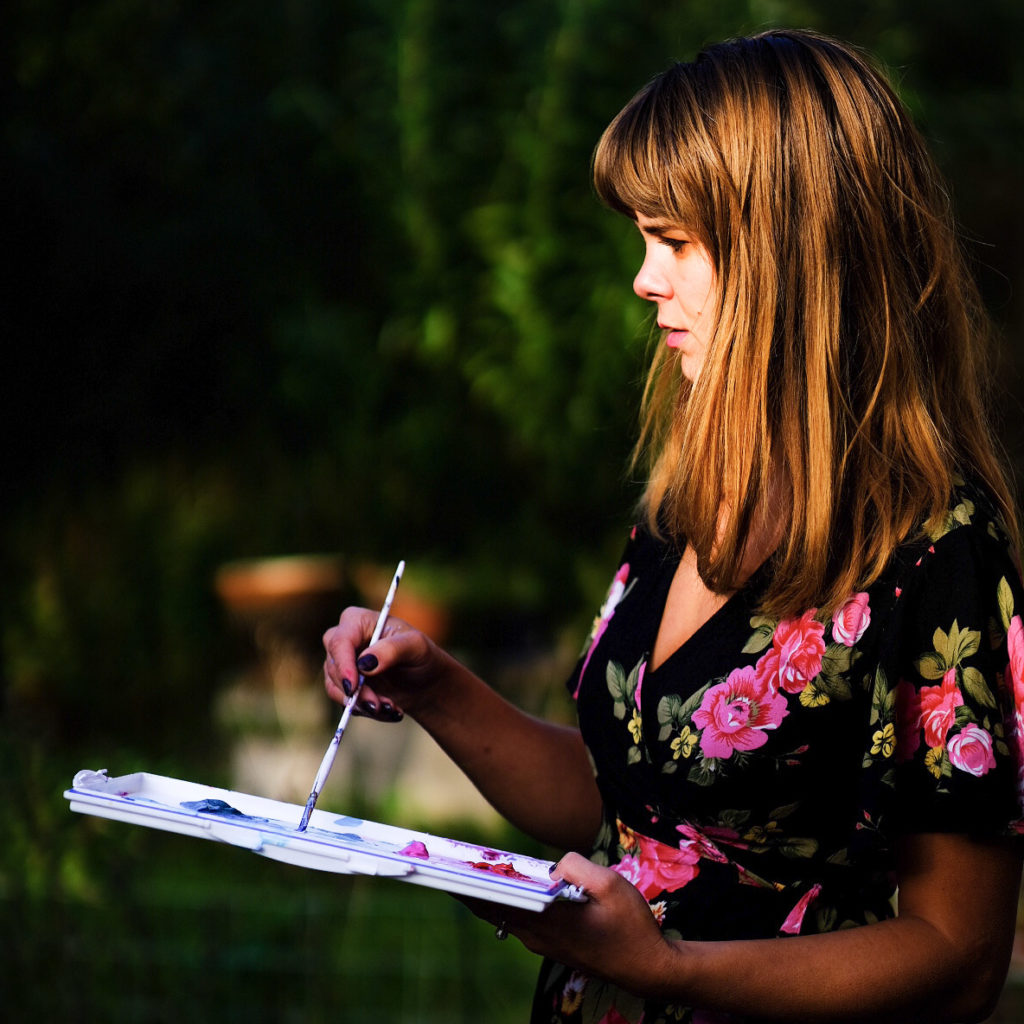 What do you want to be when you grow up? As Many other children, I was asked this question as a child. I remember thinking that the most prestigious thing in the whole world that a person could become, would be an artist … yet I barely dared to dream of it. Fortunately I never stopped drawing and painting or dreaming, and slowly I learned how to manifest my artistic dreams into reality.
When we want to create something, whether that beeing a career, a family a painting, some of the same creative principles are at stake. Learning to master them have become a part of my life-mission.
When I was discovering my identity as a teenager, my interest in self-development began. Since then, I have explored the fields of psychology, spirituality and creativity through educations, courses, workshops and therapy, as well as in my personal life and by a daily meditation practice. I am specially inspired by the Swiss psychiatrist C. G. Jung's analytical psychology and his theory about the shadow and the unconscious.
As an adult, I have become aware of how creative expression can be used in the context of personal development, to stimulate various mental processes. I have used painting and drawing as a source of reflection and healing throughout most of my adult life. I am fascinated by colors and their endless possibilities. They remind me of all the different aspects of being human. How many colors do I have on my life palette? – Do I use all of them? – and how can I transform my own life into a magnificent painting?
As an artist I work figuratively and abstract mainly in acrylic and watercolor, however I also use other materials such as ink, paper, oil-paint and oil chalk. I am inspired by the Japanese aesthetic concept of Wabi Sabi, which is about finding beauty in the imperfect or in the natural. Nature In general plays an important role in my life and is one of my greatest sources of inspiration in my art work.
I have had exhibitions in Svendborg, Faaborg and Copenhagen and donated art to the non-profit organization WAFA – Water, Air, Food Awards. I have been teaching at ArtnSip's Social Art Events in Copenhagen and Roskilde from 2017 – 2020. I am currently a part of the artist collective, COLLECTIVE 13, which is located in Art Escape Studios in Nørrebro, where I also teach and work as an independent artist. I am certified as a life-coach from ID-Academy year 2013, and I am currently studying psychology and communication at Roskilde University. I live in Roskilde with my daughter.
If I could go back and give my childhood self a good advice, when she is asked what she wants to be when she grows up, I would share the following quote with her.
"Let yourself be silently drawn by the strange pull of what you truly love.
It will not lead you astray."
– Rumi
---
Educational background:
AFUK – The Academy of Untaimed Creativity, Kbh
Art and Design School, Århus
Kompetence Huset, Århus
VERA – Art and Design School, Kbh
Decoration painter, Svendborg Erhvervsskole
Lifecoach from ID-Akademy, / Ole Vadum Dahl, Kbh
Bachelor in social-psychology and communication from Roskilde University
Art & Creativity Courses:
Portrait-Painting / Mads Rye
Color teaching / Niels Frank
Abstract painting / Saeed Fadavi
Watercolor painting / Kai Glad
A year of painting 1 and 2 / Alena Hennesy
A year of healing / Alena Hennesy
Creative Writing & Imagination / Aksel Haaning
Better than Art School / Amira Rahim
Illustration techniques to unlock your creativity / Adolfo Serra
Other Courses:
Menstrual Wisdom and Power Circle / Diana Z. Petrova