EXPRESSIVE PAINTING & CREATIVE AWARENESS

In this 5 times intuitive painting course, you will be invited to explore your own creativity and create images from within your own soul. The purpose of the course is to have a safe space, where you can exercise your creativity, learn and grow while discovering your own uniqueness through expression.
The course is for beginners as well as for people with experience. Weather you are into abstract or figurative expression, the classes invites you to develop your own personal style through acrylic painting and various mixed media methods.
Artistic expression can be very liberating and therapeutic, and also sometimes deeply personal. In this course there is room for it all.
In the beginning of each class there will be a short guided meditation to ground and relax so you can connect deeper with yourself before we start painting. Each class will include theory and exercises that will give you knowledge, insight and experience with the mediums we are using and how you can apply them in your own way, followed by free painting, with a small break in between.
This is not a art-therapeutic class, but contains therapeutic and self-reflecting exercises.

The class accommodate both English and Danish speaking students.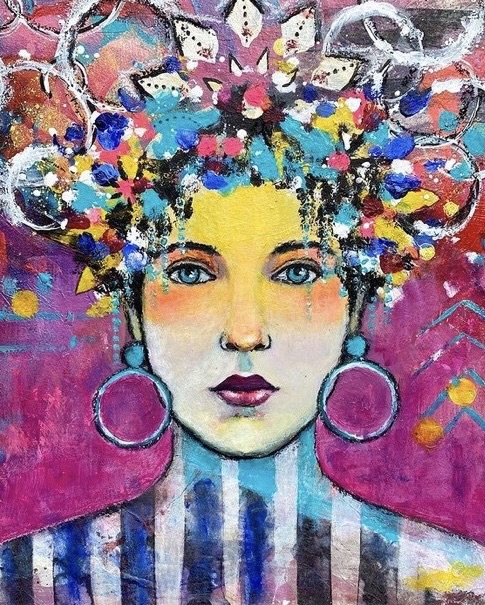 IN THIS COURSE YOU WILL GET
Each class has a different theme, related to the creative process we go through, but it's also an invitation to explore how we relate to that theme in our lives in general.
FIRST CLASS / GETTING FAMILIAR WITH COLORS
Theme: Balance
The first class is all about color – the base of every painting. This class introduces basic color theory and color mixing strategies + painting exercises that will give you a broader understanding of how to use and stretch color. The aim of the class is to give you a strong foundation of knowledge, for choosing and balancing colors in your work, as well as a space where you can develop a sense of how you relate to colors on a personal level.
SECOND CLASS / UNDERSTANDING COMPOSITION AND FIGURE
Theme: Choice
In this class you will be introduced to design concepts and other visual tools that will give you the knowledge you need to create good compositions in your paintings. We will explore how to use values, mark-making and other painting strategies intentionally to create emphasis, in both abstract and figurative paintings. On an inner level, we will take notice of how we relate to choice, as all choices create new opportunities and leave out others.
THIRD CLASS / DREAMY LANDSCAPES WITH INK AND LIQUID PAINT
Theme: Dreams
In this playful class we will explore how to create special effects with liquid painting and work with transparent layers. We will use high amounts of water in our acrylic paint and work with inks on aquabords, which is a special water absorbent canvas. The water allows us to create light and dreamy effects in our paintings and express ourselves on a deep emotional or subconscious level.
FOURTH CLASS / CREATING DEPTH THROUGH MULTIPLE LAYERS
Theme: Trust
This class takes you through various mixed media techniques and teaches you how to build deep and rich layers in your artwork. We will work with paper and stencils and learn methods that can add deeper interest to your paintings. We will explore within ourselves, as well as on the canvas, the 3 creative principles: Creating, Sustaining and Eliminating, and work on developing trust in an unfolding process that keeps on taking us to new levels.
FIFTH CLASS / USING NATURE AS INSPIRATION
Theme: Witness
In the last class, we will draw inspiration from nature. Everywhere we look there are shapes, colors, patterns, landscapes etc, to witness and learn from. Nature has the ability to organize chaos into perfect balance. We will work with the Japanese aesthetics concept: Wabi Sabi, that aim to see the beauty in the imperfect. We will also practice to witness ourselves and our own creative unfolding process without self-judgement.
Testemonial
words from a student
"The course has been life changing and I highly recommend it. With the meditation, affirmations, written reflections and lectures on art theory, combined with the focus on painting and creating from intuition but within a structure, this is no ordinary art class. Through it I have been forced to search my soul and have developed as an artist, and as a person. The course helps you see yourself and the world differently and discover an almost child-like freedom and creativity deep within yourself. It truly is inspiring. Plus it's really fun working with all the different materials!"
– Louise