Do you have a special wish for a painting?
Perhaps a portrait of someone you love or a series to decorate the living room? I create whatever you have in mind. We will have a chat about your preferences regarding color, motive, size, style and material, as I offer to do paintings in both acrylics, oil and watercolors.
Soul paintings
One of my gifts as an artist and as a human-being, is my ability to see, understand and translate feelings and longings into images. Therefore, I often paint pictures that reflect the journey of the soul, and I am offering to do the same for you. We will begin by having a Skype conversation, as this work requires a little deeper knowledge of who you are, and/or the person the image is about. Based on our conversation, I will get a picture of what you want the picture to express and offer my artistic experience and knowledge. From here you will be invited to follow the image creation-process closely, so the painting reflect your vision as near as possible. The process of portraying the soul can be profoundly healing and transforming, and works particularly well in connection with big life changes or transitional rituals.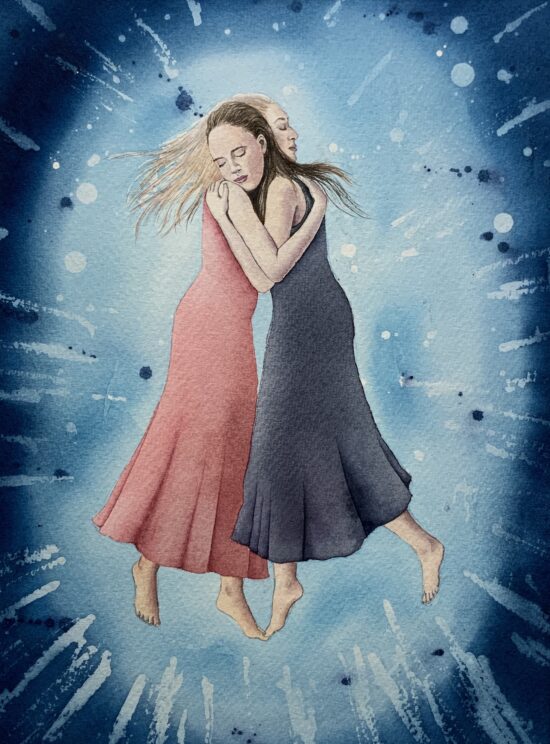 Tines friends were going to get married and she wanted to give them a special wedding gift. A painting, inspired by the movie-poster "The Shape Of Water", to illustrate their love.
Practical info
Feel free to contact me with any questions or concerns you might have, before you decide if you want to order.
When you order a painting, a payment of a minimum 50 % of the full amount is required in advance, before the beginning of the work process. The rest of the amount to be paid when the painting is finished and ready for shipping/pickup.
For more information on pricing and availability please contact me here.