I am one of those children who never stopped drawing and painting and as I grew up, painting became my favorite place to recharge and reconnect to myself.
I gradually became aware of how artistic and creative acts, can stimulate psychological and emotional processes – and open us to the source of inner wisdom, that we all carry inside.
My core interest lies between art, creativity, aesthetics and psychology. I'm inspired by the Swiss psychiatrist C.G Jung's analytical psychology and eco psychology.
I love working with colors and I'm fascinated by their endless possibilities. They remind me of all the different aspects of being human. How many colors do I have on my life palette? – Do I use all of them? – and how can I transform my own life into a magnificent painting?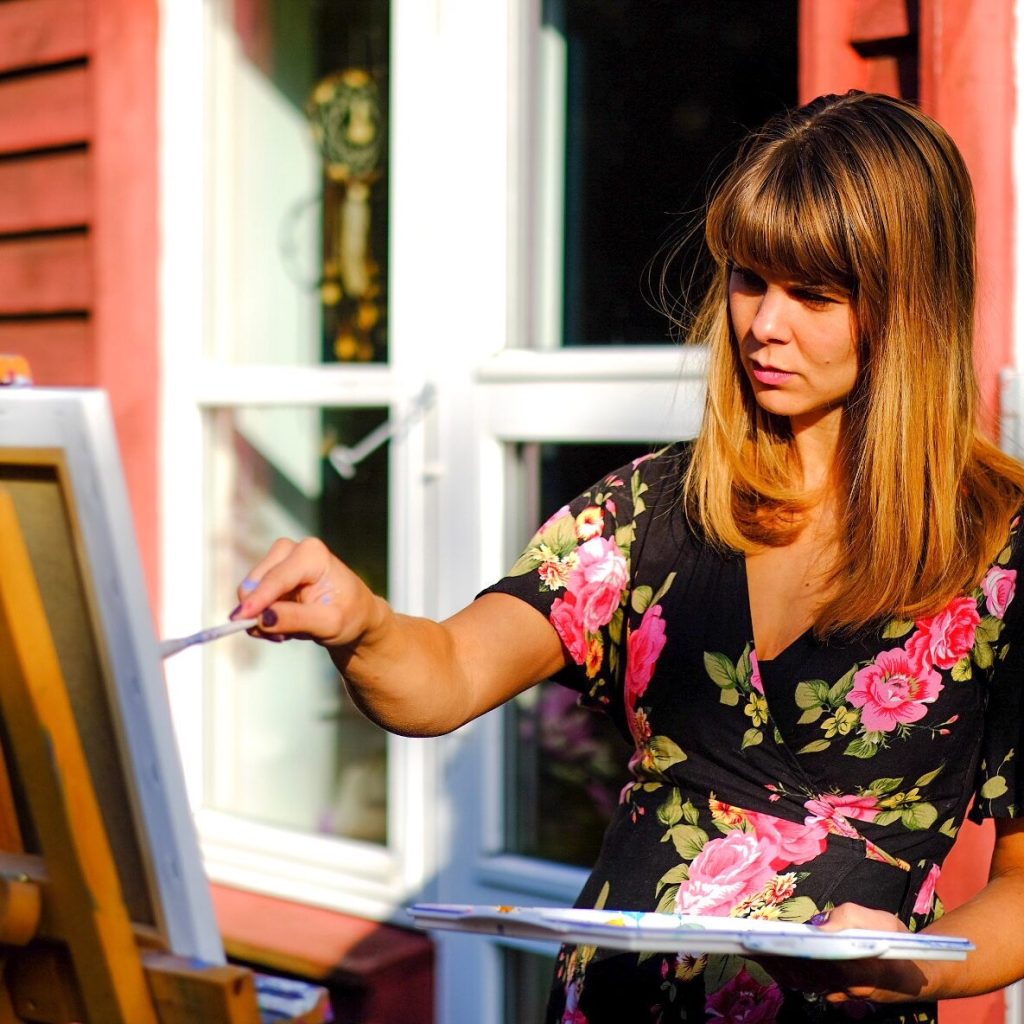 As an artist I work figuratively and abstract, mainly in acrylic and watercolor, however I also use other materials such as ink, paper, oil-paint and oil chalk. I am inspired by the Japanese aesthetic concept of Wabi Sabi, which is about embracing the imperfection in nature. Nature in general plays an important role in my life and is one of my greatest sources of inspiration.
I have been teaching art and facilitated creative processes for children and adults since 2017, as an art-teacher in ARTXP Social Art Events, through evenings schools such as FOF og DOF, and as an art-teacher in a public-school, but mainly through my own company. I'm currently a part of an international female artist-collective, which is located in Art Escape Studios in Copenhagen. From here I teach classes and workshops in acrylic, watercolor and coffee painting.
I am a certified life-coach from ID-Akademy (2013) and are currently reading my master degree in social psychology fra Roskilde University. I live in Roskilde with my daughter and two small dogs.
Educational background:
AFUK – Akademiet for utæmmet kreativitet, Kbh
Skolen for Kunst og Design, Århus
Kompetence Huset, Århus
VERA – Skole for kunst og design, Kbh
Decoration painter, Svendborg Erhvervsskole, Svendborg
Lifecoach from ID-Akademy / Ole Vadum Dahl, Kbh
Creative process facilitator / Bloom institute, Kbh
Bachelor in social-psykologi and communication from Roskilde Universitet, Roskilde
Courses in art & creativity:
Portrait-painting/ Mads Rye
Course in color-theory / Niels Frank
Abstract painting / Saeed Fadavi
Watercolor painting / Kai Glad
A year of painting 1 and 2 / Alena Hennesy
A year of healing / Alena Hennesy
Creative writing & Imagination / Aksel Haaning
Better than Art School / Amira Rahim
Illustration techniques to unlock your creativity / Adolfo Serra
Cityscapes in watercolor / Alvara Castagnet
Watercolor portraits / Ale Casanova
Acrylic portraits / Will Kemp
Other courses:
Menstrual Wisdom and Power Circle / Diana Z. Petrova
Celebration Day For Girls Facilitator / Celebration Day For Girls