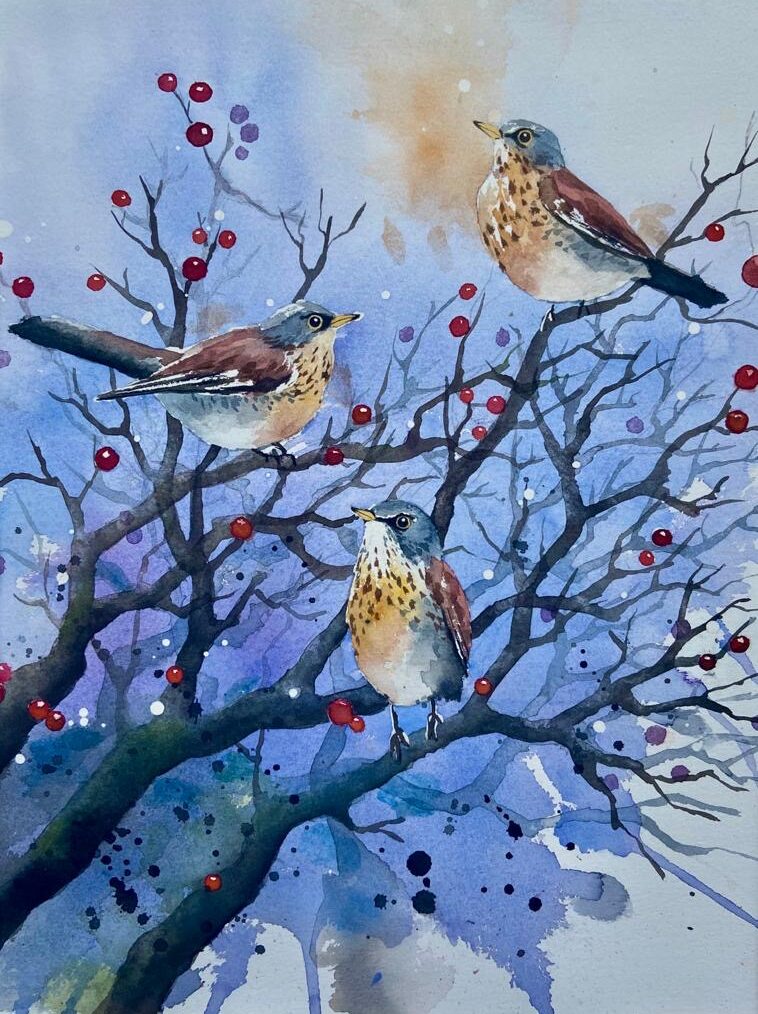 Watercolor for beginners is a class for people who would like to learn the basic skills of watercolor-painting. This class will focus on color-theory, brush-technique and how to build up a painting right from drawing the motive to laying down the colors.
This class will focus mainly on portraits and figures (not landscapes)
No previous experience is needed, all you need is a positive approach to learning and growing through experience, experimenting and making mistakes, which in this class is considered a vital part for learning and growing!
We will start by painting the same motives, but as the class advances, students are encouraged to pick their own motives and add personal and creative elements to the paintings.
Classes takes place
EVERY TUESDAY from August 17th to September 14th 2021
from 6.00 – 8:30 PM

Adresse: Art Escape Studios
Blegdamsvej 68, 2100 Østerbro (Across from Rigshospitalet)
PRICE AND REGISTRATION
1 time for 335 DKK (24-hour notice required)
(You'll try it out and go home with a small finished painting –
All high quality materials is included in this price, including colors, paper and paintbrush)
5 times for 1650 DKK
(You'll paint several different paintings and go through basic painting exercises and learn about color, composition and brush-technique)
10 times for 3000 DKK
(After the first 5 times, you'll be invited to chose your own motifs and work with your own ideas)
---
THE PRICE INCLUDES:
Use of basic materials such as pallets, pencils, special paint-brushes, ruler, erasers, paper towel, drawing-board etc.
You must bring your own watercolors, a watercolor paper-block and at least one watercolor paint-brush.
View a detailed description about materials here
*This class accommodate both English and Danish speaking students.
*If you become a regular student in Art Escape Studios, you can get your own discount card that last one year.
This card gives 15 % discount in Tutein og Koch
What students have said
I started with Ida's class 10 weeks ago and I'm amazed with how much I have learned in that time. I didn't have any previous experience with watercolor and just started drawing. Ida is an amazing teacher! If you want to learn the most difficult painting medium – then Ida can definitely help you.

– Dimitar
I followed Ida's watercolor class over the past few months and warmly recommend it. Ida is great, super sweet and patient and she helped me create some artworks that turned out much nicer than what I imagined I was capable of doing.

– Paloma
If you've been curious on watercolor I very much recommend Ida's classes at Art Escape Studios. Whenever you have painting experience or never held a brush in your life, this is the class for you. Ida guides you through each step of painting a wide range of beautiful motifs and you'll learn all kind of cool techniques to build your own artwork. She offers both group teachings and individual guidance along the way, while sharing all of her good tricks.

– Runa
CORONA PASS:
Corona Passes is mandatory in any indoor and business outdoor scenario. It is the responsibility of the business owner to ensure you have a negative test, or that you have been vaccinated or have had corona. We are asking that everyone please be sure you have completed one of the latter before coming to the studio. If you show up without this, we are obliged to not let you participate and we can not give a refund at this point.